What is IFU spectroscopy?
IFU spectroscopy is an observing technique that provides spectral information over a 2D field of view using instruments known as IFUs (Integral Field Units). This technique is distinct from previous spectroscopic surveys in SDSS which obtained spectra at only a single point, or longslit spectroscopy which provides some spatial information but only along a single slice through an object. Although IFU spectroscopy provides spatially resolved information, it is distinct from traditional broadband imaging which blends the light over a wide range of wavelengths.
IFUs come in many forms. MaNGA's IFUs are collections of fibers known as "bundles". There are many fiber bundles on each SDSS plate and the science bundles vary between 19 and 127 fibers. Each individual fiber yields a spectrum at a different position (for more information about MaNGA instrumentation, see the instrument page). Since there are gaps between the fibers, MaNGA takes data at slightly different positions to fill in all the spaces, a process known as "dithering". The data files created from MaNGA observations provide the flux of an object as a function of position/location and wavelength. From this data, we can make products like spatially resolved maps of important spectral features which tell us about galaxy properties such as velocity, age, elemental abundances, and star formation.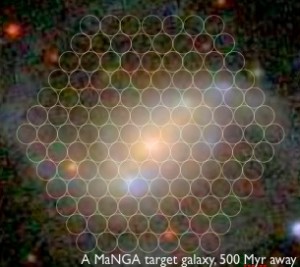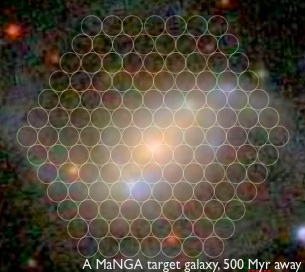 For a more detailed description of IFU spectroscopy and different types of IFUs, check out this website