MaNGA Survey Strategy
Observing Strategy
For each galaxy, MaNGA aims to produce an image at every wavelength. Therefore, we care about our spatial resolution as much as our spectral resolution. The typical site seeing has a full width at half maximum (FWHM) of 1.5″. Our hexagonal-formatted fiber bundles are made from 2″-core-diameter fibers with 0.5″ gaps between adjacent fiber cores. If all exposures of a plate are pointed at a single position, we would under-sample the intrinsic point spread function (PSF) and lose spatial information. Therefore, we conduct "dithered" exposures at three locations that are slightly offset from each other so that we can provide sufficient sampling of the PSF. The three "dither" positions form a equilateral triangle with 1.44″ on a side, as shown in the figure below.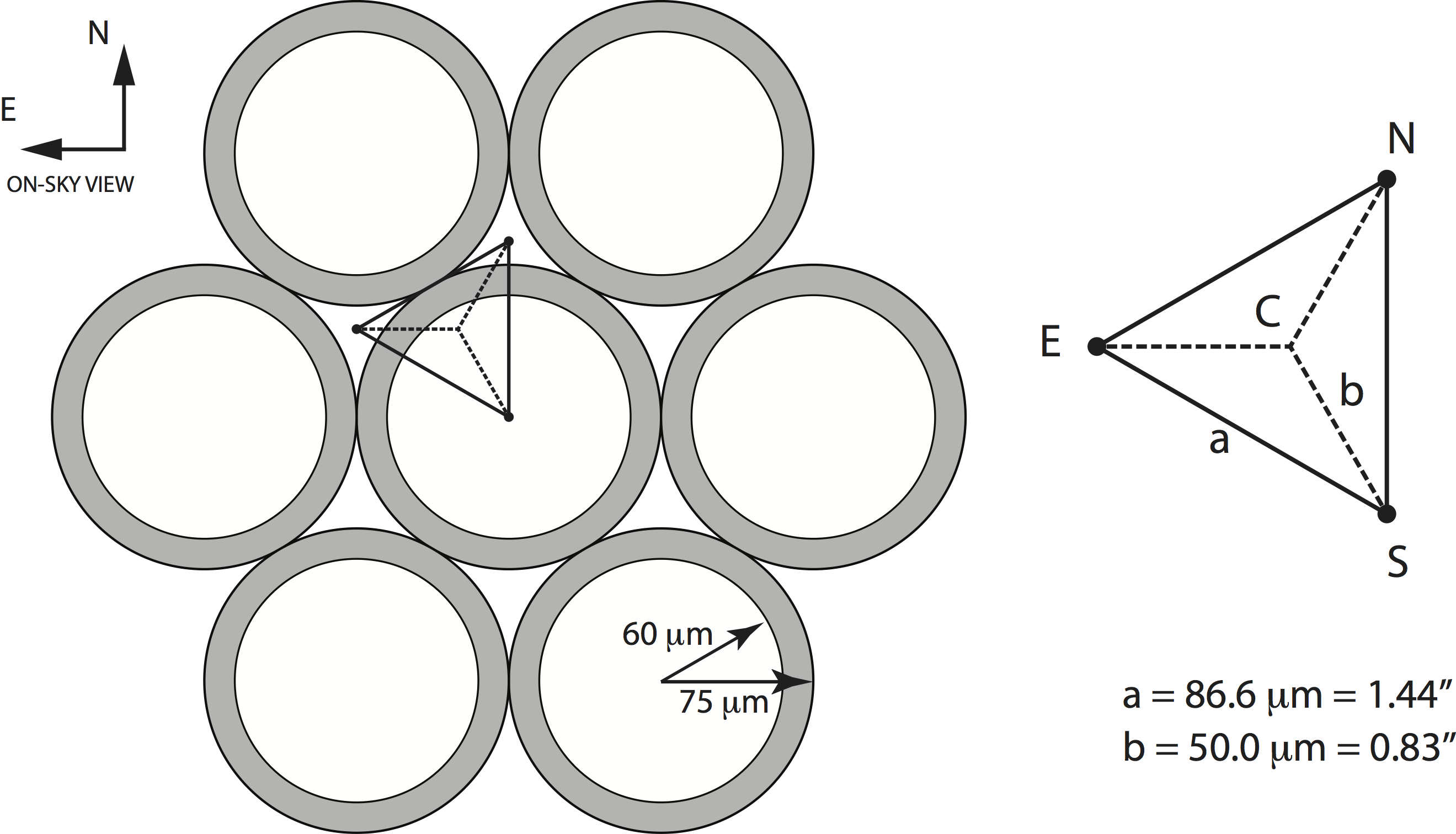 To achieve uniform depth at each dither position, the minimum observing unit is a set of three dithered exposures (NSE). We obtain as many sets as possible until we reach the desired Signal-to-Noise ratio (S/N) in both the blue and red cameras at two reference fiber magnitudes. In the red cameras, the total accumulated (S/N)2 at a fiber magnitude of i=21 in complete sets needs to be better than 36. In the blue cameras, the total (S/N)2 at a fiber magnitude of g=22 in complete sets needs to be better than 20. These limits are set by the science requirements of the survey. For details, see Yan et al. (2016).
All MaNGA survey exposures are 15 minutes long. The three dithered exposures in a set need to be taken close in time to minimize the distortion to the dither pattern by the refraction of the atmosphere. The three exposures also need to have similar data quality: their seeings need to be within 0.8″ of each other, and their (S/N)2 need to be within a factor of 2 of each other. We also require all exposures in a set to have a seeing better than 2.5″ individually and better than 2.0″ on average. For details on how we arrive at these criteria, see Law et al. (2015).
These criteria are not always satisfied by all exposures taken on a plate. Sometimes, the dither sequence got interrupted by bad weather, or broken by bad seeing or low S/N exposures. Some of the incomplete sets with good exposures are patched on subsequent nights and they are counted towards the plate completion. Some are never patched. Therefore, about 10% of the exposures taken have relatively good quality (seeing better than 2.5″ and good S/N) but were not included in a complete set, and hence not counted in the plate completeness calculation. They are referred as 'orphaned' exposures.
The orphaned exposures are reduced by the 2D stage of the pipeline, but not in the 3D stage. In the current data release, they are only available as mgCFrame files, but are not included in the final RSS or the construction of the CUBE files.
References
Law, D. R., Yan, R., Bershady, M. A., Bundy, K., Cherinka, B., Drory, N., MacDonald, N., Sánchez-Gallego, J. R., Wake, D. A., Weijmans, A.-M., Blanton, M. R., Klaene, M. A., Moran, S. M., Sánchez, S. F., & Zhang, K., Observing Strategy for the SDSS-IV/MaNGA IFU Galaxy Survey, Astronomical Journal, 150(19), 17 pp., doi:10.1088/0004-6256/150/1/19.
Yan, R., Tremonti, C., Bershady, M. A., Law, D. R., Schlegel, D. J., Bundy, K., Drory, N., MacDonald, N., Bizyaev, D., Blanc, G. A., Blanton, M. R., Cherinka, B., Eigenbrot, A., Gunn, J. E., Harding, P., Hogg, D. W.; Sánchez-Gallego, J. R., Sánchez, S. F., Wake, D. A., Weijmans, A.-M., Xiao, T., & Zhang, K., SDSS-IV/MaNGA: Spectrophotometric Calibration Technique, Astronomical Journal, 151(1), 18 pp., doi:10.3847/0004-6256/151/1/8.