Data Volume
SDSS Science Archive Server (SAS)
The SAS is a hierarchical directory structure with named data products, and can be navigated directly:
Individual data products are either replacements from previous data releases, and add incrementally to the data volume, or contain links to previous data releases, and add cumulatively to the data volume. Whether you are interested in the incremental volume or the cumulative volume depends on whether you want to maintain the archive's directory structure including the links, or if you prefer to expand the data volume by traversing the links. Although it is recommended to do so, copying the incremental volume may risk broken links unless you also copy the data from the previous releases, whereas traversing links to copy the full cumulative volume may risk obtaining duplicate files.
SDSS Access is the recommended python package to transfer each species of file within a data product, and copies the increments for each specified release keeping links intact without duplication.
Incremental Data Volume for Data Release 17
The total incremental volume for DR17 is
335,971 directories
50,264,992 files
245 TB
Previous releases, including DR8 -- DR16, have a combined incremental volume of:
5,238,520 directories
340,027,062 files
407 TB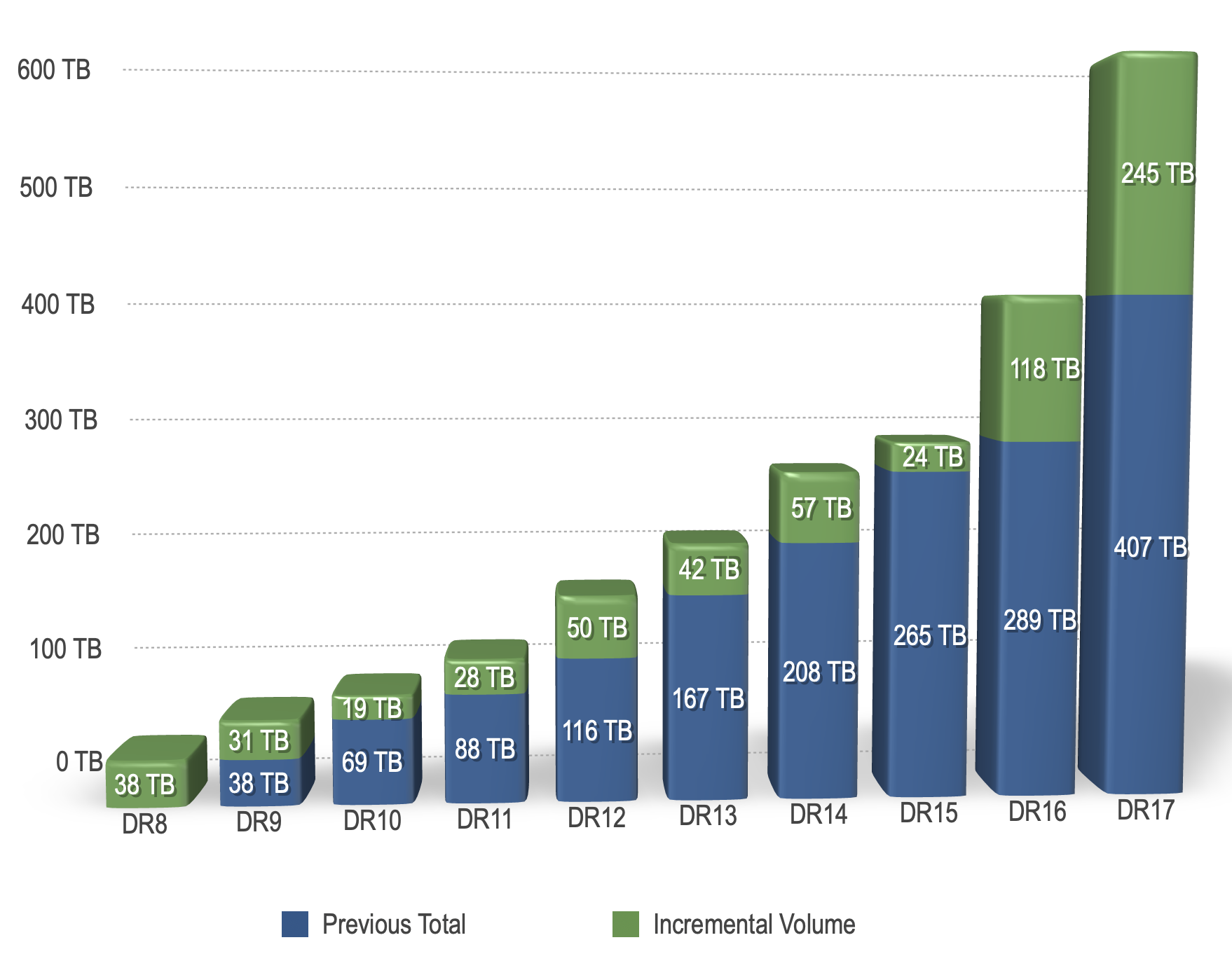 APOGEE Data
SAS Directory
Datamodel
Dir Count
File Count
File Size
apogee/spectro/aspcap
APOGEE_ASPCAP
37,311
7,146,994
21 TB
apogee/vac/apogee-astronn
APOGEE_ASTRONN
1
1
647 MB
apogee/spectro/data
APOGEE_DATA
784
116,021
17 TB
apogee/spectro/data1m
APOGEE_DATA_1M
787
4,897
329 GB
apogee/spectro/data2s
APOGEE_DATA_2S
858
67,430
8284 GB
apogee/vac/apogee-fire_sim
APOGEE_FIRE_SIM
17
2,802
18 TB
apogee/vac/apogee-gc
APOGEE_GC
1
2
2566 kB
apogee/vac/apogee-nc
APOGEE_NC
1
1
367 MB
apogee/vac/apogee-net
APOGEE_NET
1
1
56 MB
apogee/vac/apogee-occam
APOGEE_OCCAM
1
2
4066 kB
apogee/vac/apogee-photvar
APOGEE_PHOTVAR
2
5
393 MB
apogee/vac/apogee-rc
APOGEE_RC
2
1
266 MB
apogee/spectro/redux
APOGEE_REDUX
59,445
15,458,629
52 TB
apogee/vac/apogee-sb2
APOGEE_SB2
1
1
8593 kB
apogee/spectro/speclib
APOGEE_SPECLIB
1,404
1,923,663
59 TB
apogee/vac/apogee-starhorse
APOGEE_STARHORSE
1
1
289 MB
apogee/target
APOGEE_TARGET
2
598
5316 MB
apogee/vac/apogee-thejoker
APOGEE_THEJOKER
1,897
358,351
31 GB
apogee/vac/apogee-wd_binary
APOGEE_WD_BINARY
1
1
12 kB
Total
102,522
25,079,401
175 TB
MaNGA Data
SAS Directory
Datamodel
Dir Count
File Count
File Size
manga/agn
MANGA_AGN
2
2
40 kB
manga/spectro/firefly
MANGA_FIREFLY
2
5
13 GB
manga/gema
MANGA_GEMA
2
2
7223 kB
manga/HI
MANGA_HI
9
13,262
414 MB
manga/mandala
MANGA_MANDALA
3
128
37 MB
manga/morphology
MANGA_MORPHOLOGY
9
39,951
9798 MB
manga/spectro/mangapca
MANGA_PCA
620
10,883
22 GB
manga/photo
MANGA_PHOTO
3
2
14 MB
manga/spectro/pipe3d
MANGA_PIPE3D
11,477
2,387,203
440 GB
manga/spectro/analysis
MANGA_SPECTRO_ANALYSIS
178,045
991,262
9696 GB
manga/spectro/data
MANGA_SPECTRO_DATA
1
0
0 bytes
manga/spectro/lensing
MANGA_SPECTRO_LENSING
635
3,056
702 GB
manga/spectro/mastar
MANGA_SPECTRO_MASTAR
8
18
26 GB
manga/spectro/redux
MANGA_SPECTRO_REDUX
19,145
1,885,965
34 TB
manga/spectro/specz
MANGA_SPECZ
989
48,682
283 GB
manga/target
MANGA_TARGET
2
2
31 MB
Total
210,955
5,380,423
46 TB
eBOSS / SDSS Data
APO Data
LCO Data